This rooftop restaurant located on top of the luxurious Pendry West Holly Hotel is a must-visit for a birthday or a girl's night out.
Hi Gems, it's Gemini and welcome back to our blog! We are so exced to begin G365 with you all. Yup, that's right … we're going to challenge ourselves to 365 days of blogging! Do we sound Insane? Probably. But I read this qoute that said "Never give up on something you can't go a day without thinking about" and so I opened my laptop, took a deep breath, and began typing.
To successfully complete G365 we realized that we wanted to focus more on things that we love … and what could we love more than food?
Lately, as college students living in Los Angeles, we've been enjoying exploring the restaurant scene … and we want to take all of you with us on this journey.
Click here to learn more about us!
Everything You Need to Know About Merois Before You Go
---
Restaurant Overview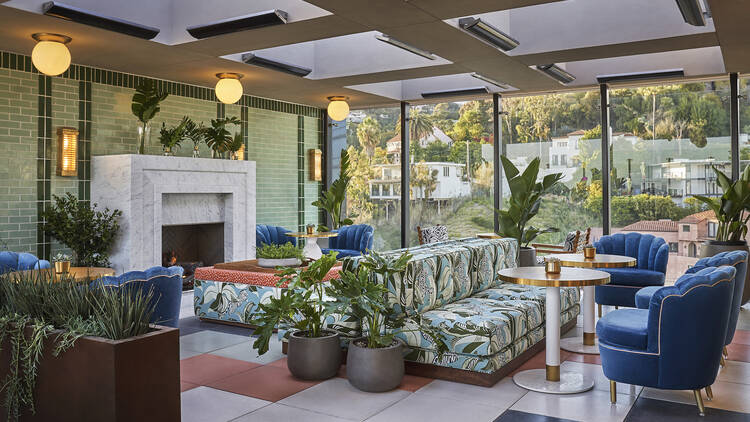 Merois is located in the glamorous West Hollywood district, so definitely keep an eye out for wild celebrities roaming the area. This summery restaurant boasts a rooftop pool, a seashells themed bar, and a lovely indoor seating with 180 degree views of Los Angeles. It's the perfect place to impress for a late afternoon cocktail or an intimate dinner.
---
Want to discover more Restaurant Hidden Gems in Los Angeles ?
Become a Gem and subscribe to our blog for more fun reviews and recommendations!
---
Food
Not to our surprise, Merois tasted as good as it looked. The restaurant boasts an Asian Fusion cuisine, with inspiration from Thailand, Singapore, and Japan. Their seafood looked spectacular, and you could feel the detail and time put into every dish.
When we visited it was just the two of us, so we ordered their crispy Brussel Sprouts alongside their menu highlight; the Crab Fried Rice. We also ordered a dessert from their menu, and were so grateful to receive two free cakes as service!!
Brussel Sprouts
These were heavily glazed making them a little bit sweet, balanced well with the charred leaves
While they were a fun appetizer, the proportion was actually quite large! If you want to save your stomach for more items, this dish might be better for larger groups
Crab Fried Rice
The presentation comes looking like Omurice, a popular Japanese dish with a thin egg layer flowing over a heap of rice.
The Peking Duck inside the rice was fabulous, perhaps also because it was one of our first times trying duck.
The egg is in the form of a Dashi Omelet covering the rice.
Garlic Chives add a savory finish to the dish, however we didn't find it as flavorful as expected being one of their most popular menu items. Perfect for those with a milder palette.
The Spikey Lemon
This instagrammable dessert is a round Kalamansi Cake filled with layers of Yuzu Curd surrounded by a fluffy Meringue
The dish was sweet, but the lemon balanced it perfectly
Probably the most fun item on the menu to cut 😉
Chocolate Cake
Our servers were kind enough to give us this two slices of this luxurious cake as a special treat since we came in for a special occasion. How kind!
This turned out to be one of our favorite menu items…it was rich and dark…and they even brought out candles for us to celebrate.
Ambiance
We visited Merois on a Thursday late afternoon, and the softly lit restaurant quiet, romantic and perfect for long conversations and photos. We ended up staying for what felt like several hours; chatting and enjoying the view.
We didn't mind being on the wall farther from the windows because it actually felt a little more secluded (so we could be silly and laugh in our little booth) but if you prefer a closer view of the city, kindly ask your waiter to seat you by the windows.
We passed the bar on our way into the restaurant and it felt light and cheery. With so many windows lighting up the seating, it was a fun spot, and many couples were enjoying a drink together.
Because the overall restaurant is not super large, the overall vibe was romantic and intimate, and had a wonderful energy that will be bringing us back.
When to Visit
Definitely late afternoon to evening for that classic LA sunset. The floor length windows make this the perfect place to watch the lights dim over the city.
Depending on what season you go, you will want to reserve a table for an hour before sunset — this way you can enjoy the bright day-time views and the darker night-time city lights.
---
Want to discover more Restaurant Hidden Gems in Los Angeles ?
Become a Gem and subscribe to our blog for more fun reviews and recommendations!
---
Our Recommendations
Order the Spikey Lemon if your there for photos
Kindly mention to your waiter if you are there for a special occasion! We got lucky and they brought us two luxurious chocolate cake slices (that didn't take long to demolish)
Dress up! It's the perfect place to wear those new heels you're waiting to take out of your closet
Be kind to your servers (see point two ☺️)
Avoid
If you wanted to survey a variety of dishes, avoid the brussel sprouts since they are a much bigger proportion than you might expect. However, if you want something to fill you up, these are incredibly yummy!
Price
Located in the middle of the Sunset Strip and in the West Hollywood region, this is going to be a perfect restaurant for special occasions.
You can expect to pay around $40-50 per person.
So… is it worth it?
Yes. Yes. Yes.
Honestly, we will definitely be back again. This is perfect place to welcome a visiting friend to Los Angeles and show them some city views, a pool-side bar, and of course, some instagrammable (and tasty) desserts for their feed.
---
We hope you enjoyed the first blog post of many, and that you'll stay around for all the exciting restaurants we will be featuring on our blog.
It's definitely been a minute since I wrote one of these posts, so I hope you enjoyed it, and I hope that they will get better over time.
I'm also excited to start writing some TV show reviews since I've been watching a lot (Read: too much) TV this summer.
That's all for today but subscribe to the blog for more restaurant guides like this! 
Xo
Geminii
Want to read more reviews?
Become a Gem and subscribe to our blog for more fun reviews and recommendations!