Hi Gems, it's Geminii and welcome back to our blog!
We have received so many recommendations for this sitcom, so we finally decided to give it a try and it has quickly become our new favorite pass time! The thirteen episode season 1 is light hearted, incredibly humorous, and definitely worth a watch.
Whether you're debating whether to start watching or are curious to learn more after finishing the series, here is an all-inclusive guide to 'Schitt's Creek'!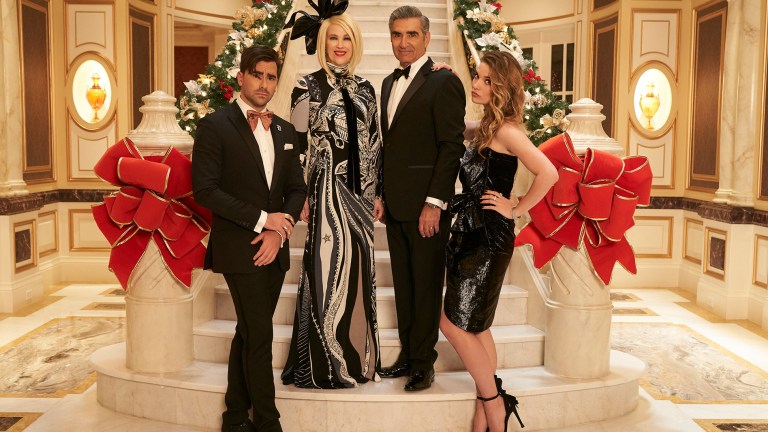 Click here to learn more about us!
---
What is the show about?
With humor that vaguely resembles 'The Office', 'Schitt's Creek' introduces us to a pretentious and wealthy family that has just lost everything. With all their investments and savings down the drain, the only asset they have left is a town they had bought for fun years ago–Schitt's Creek. With no other choice, Johnny Rose and his wife Moira pack up their things and find themselves staying at a dingy motel in the middle of a small and uninviting town with their two adult children, David and Alexis. The show humorously captures the struggles of an affluent family adjusting to life in Schitt's Creek.
Want to read more reviews?
Become a Gem and subscribe to our blog for more fun reviews and recommendations!
What makes it enjoyable?
Relatability
If you have ever been on any family trip, wether it was a vacation out of the country or simply a road trip across the state, you will know how chaotic they can become. The Roses are no different in that their new 'temporary' stay at Schitt's Creek is filled with lots of amusing bickering and butter arguments.
Characters
In all honesty, the plot started to get a little dry near the end of the season but for some reason it was still highly addictive. Even though the storyline has a few slow spots, the show is still captivating because of its uniquely interesting characters that are hard to leave. There is no doubt that our favorite character is David, but honestly we have fallen in love with the entire family while watching the first season.
Should I Watch it?
You might be on the fence after the first episode because honestly it is a LOT to take in, but this show is definitely worth a try! It has received so many awards, and deserves each and every one of them. Schitt's Creek is silly, fun, and extremely high spirited.
|Geminii's Note|
We just started Season 2 today, so we'll see how this goes 😉
Xo
Geminii
Want to read more reviews?
Become a Gem and subscribe to our blog for more fun reviews and recommendations!